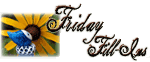 1. Why do we have to
drive places

? Could be rephrased as... Why can't we teleport like in Charlie and the Chocolate Factory?
2.
Checking my Facebook and Twitter
are now habits.
3. I have
tons to do, but not a lot of time!
HELP! ;)
4. I had never heard the phrase "
it really twerks my butt
" and it
sort of caught me off guard when my boss said it to me!
lol...
5.
I'm gonna go with the flow and try to have fun,
the way I always do.
6. How was I to know
that we'd have to cancel Will's appointments to go to our niece's birthday party this weekend? Oh yeah, that's right... I wasn't supposed to know, because when I asked HUBS when the party was, his response was "Oh, sometime in April, I'll ask him later..." Then we came home to a note on our door the other day saying it was this weekend! LOL! Not that I'm complaining, Chuck E Cheese sounds a lot more fun to me than sitting in the waiting room anyway! :)
7. And as for the weekend, tonight I'm looking forward to
heading to Manch- for an interview Will has, shopping, and dinner- then to Mom's overnight
, tomorrow my plans include
party for our niece in Manch
and Sunday, I want to
visit my Dad's family, see Nana for the first time in months, then rush home to prep for the week, make muffins, and pack
! AHHHH! This is definitely going to be a PACKED weekend!
You can see other participants or join in on Friday Fill-Ins
HERE.
PS: Happy FIRST DAY OF SPRING, everyone!! :) Hoo-RA!