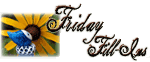 1. It's cold and
wet outside!
2.
There is nothing quite like some fresh garden
tomatoes.
3. My favorite health and beauty product is
the AVON Clearskin line right now! It's done wonders for my uhh... let's just say *blemish-prone* skin
. ;)
4.
I wouldn't really enjoy
a nice long ride.
Hey, at least I'm being honest! The car is NOT my favorite place to be...
5. Well, first of all
get your facts straight!
Do your own research, don't just follow everyone else like a sheep... BAHH :)
6.
Hubby, me and an ex of mine
; those were the cast of characters in a recent dream and it was
naughty, I'm not gonna lie!
That's all the info you will get out of me...
7. And as for the weekend, tonight I'm looking forward to
chilling with my fam and hopefully squeezing in some workout time
, tomorrow my plans include
relaxing at home with nothing to do for the first time in weeks!
and Sunday, I want to
grocery shop, do the chores, and prep for the week. Also hopefully get outside for a bit with the ruggle, all this rain has been killing us
!
You can join in on the fun, or see other people's entries, by visiting
THIS site
.