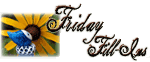 1.
Making Bendy's costume/ taking her trick-or-treating and maybe camping
are some of the things I'm most looking forward to in October.
2. Sometimes I
forget Ilyana is only 16 1/2 months old... she acts so much bigger!
3.
We're starting to fix our credit!
and that's why there is a saying, "never say never"!
4. When I'm down, I
get quiet and cry to myself... I know, pathetic. But then I convince myself that everything will work out in the end. Ultimately, I'm an optimist
.
5.
At work, at my desk, on the computer
is where you'll find me most often.
6. A rainy day is good for
crafts with Bendy, blogging(!) and watching movies (or reading, depending on which has my attention at the moment).
7. And as for the weekend, tonight I'm looking forward to
making some yummy dinner and doing chores (woo!) as well as maybe catching up on ANTM
, tomorrow my plans include
going to the thrift store to search for pieces of the costume puzzle! (possibly watching more ANTM, cuz I probably won't finish tonight)
and Sunday, I want to
do whatever I feel like
!