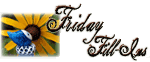 You can find the other Friday Fill-Ins participants
HERE
.
1. Give me
some awesome new recipes
and I'll
make you dinner AND cinnamon rolls
.
2. Whenever
I think about Weezer, I think "If you want to destroy my SWEATERRRR..."
Yes, that was a very random thought.
3. I wish
we could buy a house now... but since we can't, I am wishing we will at least get this much nicer apartment. It's a step in the right direction
.
4.
A creme de fleur from Au Bon Pain
was the last thing I ate that was utterly delicious. (Yes, I treated myself this morning... and am now regretting the ridiculous amount of calories ingested before lunchtime. But it
was
good.)
5. To live in this world
is a gift
.
6. Other than this one,
Good Enough Mum
is the last blog I commented on. She makes me giggle. She talks about genitals. hee.
7. And as for the weekend, tonight I'm looking forward to
dinner and maybe Wii and some cleaning
, tomorrow my plans include
not sure yet, think I might be visiting my Dad
and Sunday, I want to
finish the cleaning, prep for the week, grocery shop, and hang with my fam
!